Have you found your love of destiny? Here is a collection of soulmate quotes to help you figure out.
Are you a believer in soulmates?
Some of us are, some aren't. And it's understandable. After all, finding the one who connects to you and sync with you among 6 billion people sounds unrealistic.
If you believe in the love of destiny, you are not alone. Surprisingly, according to a 2011 poll, 3 in 4 Americans are actually soulmate-believers. And the number jumped to 80% for those under 30.
So what is a soulmate? How can you tell if someone is your soulmate?
Some may think that a soulmate is the 100% ideal person that matches what we want in a partner. We find the little traits in the people we fell in love with and decide they are our soulmates. And then comes a deal-breaker, and we jump to the conclusion that "he's not the one."
We might never be able to find that "100% match" throughout our entire life. But if you share a strong emotional connection with someone, chances are you can work together to make the relationship better, or even perfect.
Ashley Clift-Jennings shared her story in a Ted Talk about finding someone that made her feel like "winning a lottery." But she found out later that he's not the one she had imagined. Watch her talk down below. It may refresh your notion of love and soulmate.
If you've found the one of destiny, here is a collection of inspiring soulmate quotes to honor your connection.

Thought-provoking soulmate quotes to honor your relationship
Difference between the love of your life, and your soulmate?
One is a choice, and one is not.
– Tarryn Fisher
A soulmate is someone who has locks that fit our keys, and keys to fit our locks.
– Richard Bach
I can be somebody's and still be my own.
– Shel Silverstein
When one of them meets the other half, the actual half of himself, whether he be a lover of youth or a lover of another sort, the pair are lost in an amazement of love and friendship and intimacy and one will not be out of the other's sight, as I may say, even for a moment…
– Plato, The Symposium
I feel like a part of my soul has loved you since the beginning of everything.
Maybe we're from the same star.
– Emery Allen
A soul mate would be great, but at some point, I'd settle for someone who gets back to text messages.
– Atticus Poetry
You open your heart knowing that there's a chance it may be broken one day and in opening your heart, you experience a love and joy that you never dreamed possible.
– Bob Marley
You don't love someone because of their looks or their clothes or their car. You love them because they sing a song only your heart can understand.
– L.J. Smith
I seem to have loved you in numberless forms, numberless times, in life after life, in age after age, forever.
– Rabindranath Tagore
In a world full of temporary things, you are a perpetual feeling.
– Sanober Khan
I felt a pull so strongly towards you that I almost couldn't stop it.
– J. Sterling
It's too sunny today. I need you, some blankets, and a storm.
– Atticus Poetry
Imagine finding both love and friendship in one person.
– Unknown
A soulmate is your own heart in a human form.
Having perfected our disguise, we spend our lives searching for someone we don't fool.
– Robert Brault
I love every part of you, every thought and word, the entire complex, fascinating bundle of all the things you are.
– Lisa Kleypas
True love is finding your soulmate in your best friend.
– Faye Hall
You're the fire burning inside of me.
– Kelvin O'Ralph
A heart worth loving is one you understand, even in silence.
– Shannon L. Alder
Instead of two stories fumbling to meet, we belong to one story that the two, joining, made.
– Wendell Berry
Something about him—something I didn't understand—had a way of amplifying the good in my nature while muting the bad.
– Angela N. Blount
I had embraced you long before I hugged you.
– Sanober Khan
I want you beside me, to encourage and argue with me, to help me and let me help you. I want to be your champion and lover, your mentor and student.
– Connie Brockway
Time is too swift for those who fear, too long for those who wait, too short for those who finally find peace. But for those who love, time is eternal.
– Shannon Alder
You're tattooed onto my skin, and the more I try to erase you, the deeper you sink in.
– Mirella Muffarotto
Soulmates aren't looking for you, they will find you.
– Kevin Ansbro
Before I met you, my life ran on sheer amusement.
After I met you, my life ran on sheer compassion.
– Heenashree Khandelwal
He made me feel unhinged like he could take me apart and put me back together again and again.
– Chelsie Shakespeare
When we're two balloons, and together our direction is up, chances are we've found the right person.
– Richard Bach
You don't think you're soulmates; you just know it's your destiny whether you like it or not.
– L.J. Smith
A gentleman holds my hand.
A man pulls my hair.
A soulmate will do both.
– Alessandra Torre
When your soul finds another soul, it can recognize even before the rest of you knows about it.
– Francesca Lia Block
Your soulmate is the person that pushes all your buttons, pisses you off on a regular basis, and makes you face your shit.
– Madonna
Soulmates aren't the ones who make you happiest, no. They're instead the ones who make you feel the most.
– Victoria Erickson
Ocean separates lands, not souls.
– Munia Khan
Read also: 47 Missing you quotes that capture the bittersweet emptiness
He burned the fear out of me until all that was left was desire.
– Ru Freeman
Not words nor laughter. But rather someone who will fall in love with your silence.
– Sanober Khan
Our soulmate is the one who makes life come to life.
– Richard Bach
Eventually, soulmates meet, for they have the same hiding place.
– Robert Brault
A true soul mate is probably the most important person you'll ever meet, because they tear down your walls and smack you awake.
– Elizabeth Gilbert
A soulmate is someone who understands you like no other will be there for you forever no matter what.
– Cecelia Ahern
I didn't need him in order to exist. I needed him in order to be a better me.
– Angela N. Blount
Read also: 36 Deep love quotes that are beautiful, romantic and somehow bitter
Two people connected, bound to each other forever, soul to soul, in a way that even death couldn't break.
– L.J. Smith
A soul mate is not found. A soul mate is recognized.
– Vironika Tugaleva
If I began to draw myself away from you, we'd still be like two mixed colors of paint impossible to separate.
– Sanober Khan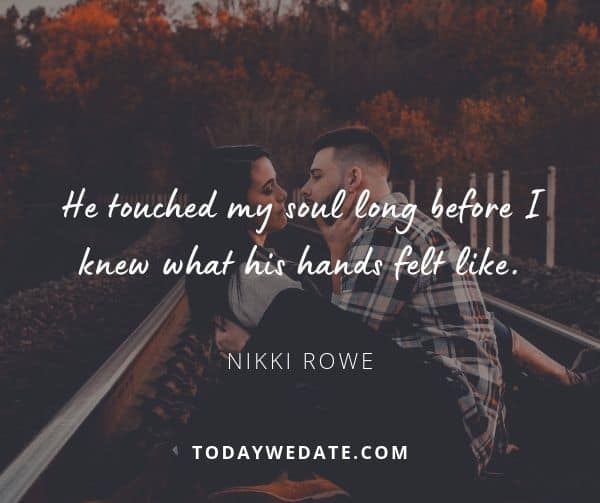 He touched my soul long before I knew what his hands felt like.
– Nikki Rowe
Have you ever felt really close to someone? So close that you can't understand why you and the other person have two separate bodies, two separate skins?
– Nancy Garden
Sticking to one person for a lifetime is not a waste of time or a lack of better ones, it means you've found your place of eternity.
– Michael Bassey Johnson
To fall in love with someone's thoughts – the most intimate, splendid romance.
– Sanober Khan

Do these soulmate quotes remind you of your love?
If they do, don't forget to share with your Significant Other. Sometimes a one-liner can say a thousand words.